Products

Tops Dresses
Mini Skirts
Long Skirts
Short Dresses
Mini Dresses
Pants
Shorts

Shipping
About Us
Fashion dresses, sarongs, pareos, handbags, sandals and costue jewellery from Bali Indonesia
CV MAYA web sites. You're welcome to combine order for Batikclothing.com with order for these web sites.
Batik Sarongs from Bali Indonesia. Rayon sarongs and pareo made in Indonesia. Hand batik beach sarongs and beach pareos made of 100% rayon fabric and textile in various motifs and styles including the bali sarongs or monocolor known also as amburadul sarongs. Other than mono color sarongs also available handpainted sarongs, embroidery pareos, silk screen printed sarongs, sarongs with beads and many more. Other popular sarongs including tie dye sarongs and hand stamp sarongs using copper stamps and wax methode. Buy sarongs directly from www.BatikSarong.com an online catalog of sarongs from Bali. Also on this web site fashion accessories and jewellery. Bali sandals and sarongs accessories.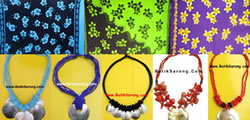 Fashion Jewellery Bali. Costume jewellery and accessories from Bali Indonesia. Find on this web site all kind of necklaces made of beads with mother of pearl shell pendant, abalone shell necklaces, sea shell necklaces and resin fibre. See also fashion jewelry bracelets made of bali silver and wood. We have complete line of fashion accessories earrings made of MOP Shell and paua shells. All handmade in Bali Indonesia including the bangles, fashion belts and handbags made of coconut shells or other natural organic materials. The best seller on this site include the wooden jewelry displays in shape of wooden bust to displays the necklaces and bracelet holders.
Sandals from Bali Indonesia. Beach sandals, slippers, shoes and flip flop with beads from Bali Indonesia. Handmade footwear from Bali made of genuine or sintetic leather hand crafted in Bali Indonesia by Balinese sandals craftsmen. Flip flop with beads, sandals with sea shells.
Handicrafts from Bali Indonesia. Wood carvings arts and crafts by balinese craftsmen. Handcrafted home decor and accessories for indoor and outdoor home or garden decoration made of mainly wood but other materials also available such as sea shells, iron, stone or resin. Cheap souvenirs and gifts in Asian style suitable for tropical or summer styles. Buy wood carvings as wall decoration, table decors. Home furnishing in oriental style.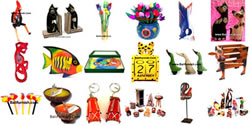 Batik Beachwear Summer Clothing Bali Indonesia
Batik clothing from Indonesia. Online catalog of batik clothes for women using various batik style including handpainted batik, embroidery batik and traditional batik from Java. Browse our catalog and find many long dresses, tunic, kaftans, beachwear, poncos. Batik Dresses Tops Skirts Pants. Beachwear Swimwear.

Our company located in Denpasar Bali Indonesia
Ph/Fax (62-361) 409 3326 Mobile (62 81) 7973 1022 Skype cvmaya